Redneck Vegas
Sunday, August 8, 2010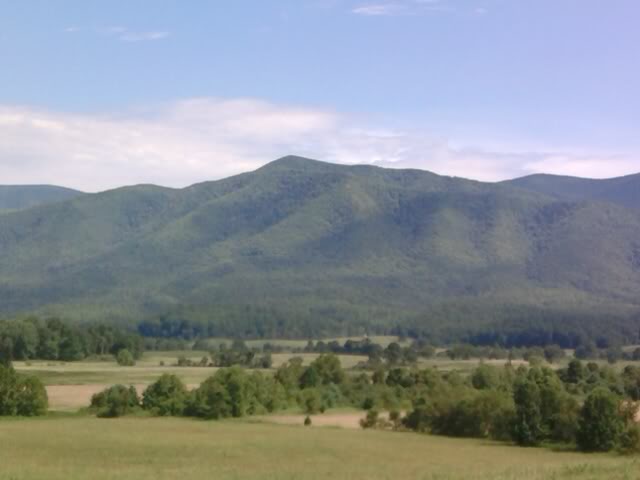 With school right around the corner, it was time for the annual family summer vacation. I know it's hard to imagine last years trip being outdone, but this year we ventured a little further than usual and visited the majestic Smoky Mountains and picturesque Pigeon Forge and Gatlinburg, Tennessee.
The first thing you'll notice is, in Tennessee, smokey is spelled without the e. At first I thought this was a typo, but it was everywhere, so I guess it's deliberate. Either that, or Smokey the Bear has had it wrong all these years. The other thing we noticed about those wacky Tennesseans is they've got their hot and cold water taps backwards. (Apparently, this was just in our motel. I got into the habit of trying taps anywhere and everywhere I could. Still, brings a new meaning to backwater. Just kidding, Tennessee, you have a lovely state.)
We left early Wednesday afternoon, so accounting for stopping for dinner and the time change, got us in town well after sane people should be in bed. You soon realize as you drive into Pigeon Forge there are no sane people here.
My boss has likened the Pigeon Forge/Gatlinburg area to "redneck Vegas." I thought that was pretty funny until I got there and realized how apt it is. Driving through Pigeon Forge was like stepping into a mecca of kitschy attractions, each more blazingly garish than the next. (And I do mean blazing. I'm sure the Tennessee Valley Authority is regretting running electricity to this place.) There are dinner theaters, museums, arcades, go-karts, outlet stores, souvenir shops, and more pancake houses than one can possibly imagine. Go on, imagine how many pancake houses there are. There's more than that. At any rate, the whole area was packed. Literally. It wasn't uncommon to sit in traffic for fifteen minutes to go a mile up the road. No question, this is a popular vacation destination. There were enough people plopping down good money to do dumb things to make one seriously reconsider whether there's really a recession going on.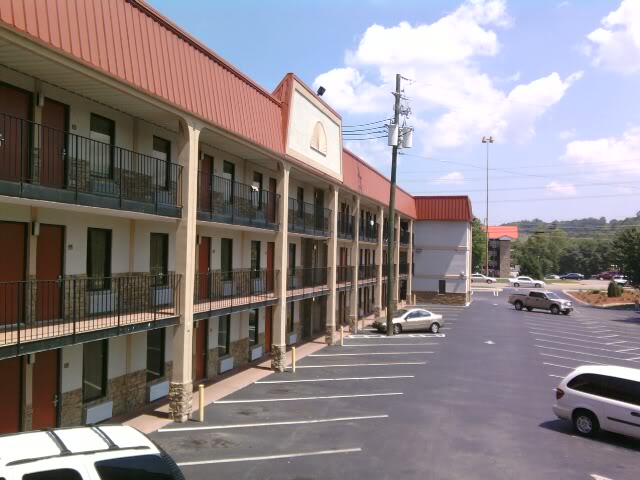 Four-star accomodations.
Lodging was a mixture of decades-old motels and brand spanking new grand resort palaces. We stayed in the former. It wasn't half bad, being clean if worn, with a killer AC unit in our room. Mainly, the half bad part was that "continental breakfast" consisted of a pot of coffee and a box of stale Krispy Kremes in the lobby. But the folks at the front desk were pleasant enough, even being so kind as to loan us a pair of scissors that would make Edward green with envy.
Up bright and early Thursday morning, our first attraction was the local Walmart. Doesn't matter how much you pack, you're always going to forget something. Apparently we forgot quite a bit. (Also, their Walmart was backward, what with the grocery on the left side of the store. I guess the parent company likes their stores to fit in with the local culture.) The remainder of Thursday entailed driving up and down the "strip" (as we called it) and stopping at several of the touristy souvenir shops looking for cheap T-shirts and whatnot. We also drove into the mountains (and through Gatlinburg, but we didn't stop at this point) to find lots (and I mean lots) of windy roads that seemingly go nowhere, until we reached a point where we deemed it would be beneficial to turn around head back, seeing as they don't put gas stations in the national park.
Determined not to eat anywhere we have at home, we had dinner at a place called Blue Moose. It's a sportsy-themed family-oriented restaurant that, according to their ads, is quite popular with the locals, although we weren't quite convinced there are locals in Pigeon Forge anymore. I was amused to see several Colts posters and paraphernalia in a town that was quite heavy on the Titans' garb, until I remembered Peyton Manning played balled at Tennessee. These folks are nothing if not loyal.
We capped the night with a walk through the Old Mill Village, which is a kind of subsection to the Pigeon Forge tourist trap. There're a couple restaurants there which, even at ten at night, seemed to be quite full still. There's also quite a few shops, most of which were closed. Leaving the car behind, we meandered back to the strip, hitting more souvenir shops, getting a good feel for what prices were, because they tended to be largely the same everywhere. (Coffee mugs, $5. Bumper stickers, $2. T-shirts, $6-12. Still didn't buy one.)
Friday morning started with a drive about as far out of town one can go and still be considered "in the Pigeon Forge/Gatlinburg area" in order to go to Tennessee's largest flea market. Truthfully, it didn't seem any larger than others we've been to, but I suppose if every single booth was occupied it might have been impressive. Sadly, there were no real surprises there. For some reason, when I think "flea market" I think "massive garage sale." In reality flea markets are essentially rednecks trying to make a buck by selling Dollar Tree goods for two dollars. Can't blame 'em for trying, but you can't forget that everything you buy there is probably a forgery, buyer beware, you get what you pay for, and other namby-pamby sayings. Shit, they're still fun.
(A word of caution, though. If you every come across those "magic fuzzy worm" things, remember, there's a reason these are sold in magic shops. It is indeed a trick. The guy selling it will try to convince you it's a harmless toy that "comes to life" in your hands, all the while handling a fuzzy worm thing like an animal trainer. True, it is indeed harmless, but what he doesn't tell you is there's a fine thread involved to actually make the thing move. Imagine the disappointment in your children as they eagerly open the package, only to find the damn thing doesn't move and it's wearing a noose. We didn't have to imagine; it happened. In fact, the guy tells you you have to place its packaging face down on the kitchen table [or car dash] for at least thirty minutes prior to opening it to make it work, which is conveniently far enough and long enough to prevent mom and dad from demanding their money back. We figured it used some kind of static electricity, so we, too, were surprised to find them manipulated by a thread. Speaking of manipulated, we feel a bit sheepish, but at least they were only a couple bucks.)
Breaking the no-eating-at-restaurants-we-have-at-home rule, we had Wendy's for lunch.
With rain coming on, and not sure what else to do, we decided to drive to Cades Cove. Cades Cove is a large meadow/valley/relatively flat area in the middle of the mountains. Apparently there used to be a settlement there, until the government kicked all the Native Americans out so that Europeans could settle there. Then, the government kicked all the Europeans out so they could make it a historic part of the Smoky Mountain National Park Resort and Casino. The big attraction in Cade's Cove is an 11-mile one-way driving path that snakes around the cove with several spectacular views of the mountains. Also popular, apparently, are the black bears, which we learned when we were stuck in a line of cars for thirty minutes so the pasty-faced tourists could block the road jumping out of their cars to photograph a bear in a tree that didn't look like much more than a black lump at the top of a tree. But hey, at least we could say we saw a bear. (While stuck in "traffic" we asked a passerby what everyone was looking at. His response: "There's a bar in that tree." I kid you not, "bar." That was awesome.)
The rain having long cleared out, we stopped in Gatlinburg on the way back, paid the $5 for parking, and walked the other "strip." Technically, my boss called Gatlinburg itself Redneck Vegas. It's just as garishly adorned as Pigeon Forge, but in about a quarter the area. And the only way to experience it is by walking. So, we took off down one side of the street, stopping as always in the chintzy touristy stores. Having found a store advertising T-shirts for $4, I got mine, knowing full well the next store would probably have them for three (it was actually about four stores later, had 'em for two). But I have my T-shirt, since no vacation is a vacation without the T-shirt.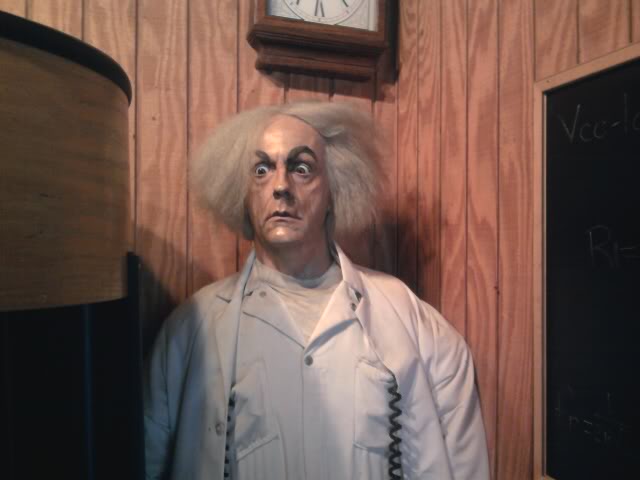 Doc Brown
Most of the attractions in both Pigeon Forge and Gatlinburg run in the $25 (and up) range, so when we came along to the World of Illusion, at only $8 per person, we'd figured we'd found the one thing we could barely afford so we could at least say we took the kids to something (oh, besides, you know, those mountains and stuff). In the end, the wife was disappointed, but I knew going in it was going to be cheesy, and in that regard, it didn't disappoint. Truthfully, it wasn't all that great, but it did have a wax figure of Doc Brown, so that was cool.
Again throwing the no-eating-at-restaurants-we-have-at-home rule out the window, we had Taco Bell for dinner.
Saturday was hiking day. Finally! The missus and I had been looking forward to this for weeks (the kids, not so much). The plan was to go to one of the pancake houses (didn't matter which one, as long as it wasn't IHOP, as we have one of those in Evansville), load up on carbs, and spend the day walking it off. In reality we spent the morning shopping, decided it was too late for pancakes, and went back to the motel room for lunch of leftovers and snacks. (Utterly ignoring the no-eating-at-restaurants-we-have-at-home rule, I got to stop at Burger King, because there weren't any leftovers for me. How unfortunate.) Heading out around noonish and driving into the mountains, we stopped at the first visitor center we came upon. (There are almost as many visitor centers as pancake houses.) After determining the trail to hike and how to get there, we got there to find the parking lot beyond full and spilling out into the road. Skipping that, we figured we'd just stop at a random pulloff and start walking. That actually worked well — briefly — until one of the kids needed the bathroom. Now. Back on the road, we zipped to the nearest campground we passed on the way in, only to find on the way back a campground less than half-a-mile further than we'd been. Now convinced we wanted to hike away from the crowds (or anybody at all), we were determined to find somewhere where there weren't any cars yet. Haven't I mentioned how crowded the whole area is? Like six-million-visitors-a-year crowded. You can't take a dump without risking splattering someone's shoe, it's so crowded.
Eventually we found an empty pulloff with a trail leading down to the river/creek/crick. I was excited because I'd worn my actual hiking boots, waterproofness and all. I was keen to walk through the water. And I did. Unfortunately, the missus and kids were wearing sneakers, which isn't a huge deal, except the kids neglected to pack their old sneakers and so were hiking in their new school shoes. We made it about a quarter-mile upcreek before it became impassible and we trudged up the ravine to the road where, thanks to the winding of the creek and the road, the car was about a hundred feet away.
Now determined to find a marked trail, we headed back to Cades Cove, paid a dollar for the guide book that, infuriatingly, didn't include a map, and dutifully re-entered the driving path. About three miles in, we stopped at a small parking lot where there was a trail leading to a rustic cabin. From there were more trails and we headed into the woods. By the time we were done, we were hot, sweaty and desiring a swim and dinner. To cap it off, we again got stuck in a "traffic jam" because someone saw a damn bear.
We ate at Wood Grill Buffet, which is like a Golden Corral on steroids, with prices to match. The steak was excellent (for buffet steak), the chicken fingers were pretty good, and everything else was uninspiring. To cap the night off, we stopped at the arcade across the street from the motel. It was pretty much a Chuck E. Cheese (on steroids), but without the pizza. But the kids had a blast and that's what counts.
Having skipped our big pancake breakfast, we figured we'd do that on the way out of town Sunday morning. Nope. Stopped at McDonalds just outside Knoxville. Enough fun, we wanted home, dammit.
Still, despite the inflated prices for inflated fun, long pointless drives through the mountains, and not enough meals at unfamiliar eateries, we had a good time. I'm hesitant to admit we're going to go back in a year or two. Yeah, redneck Vegas is that good.