Reminds me of Jocko's (but only a little)
Wednesday, October 28, 2009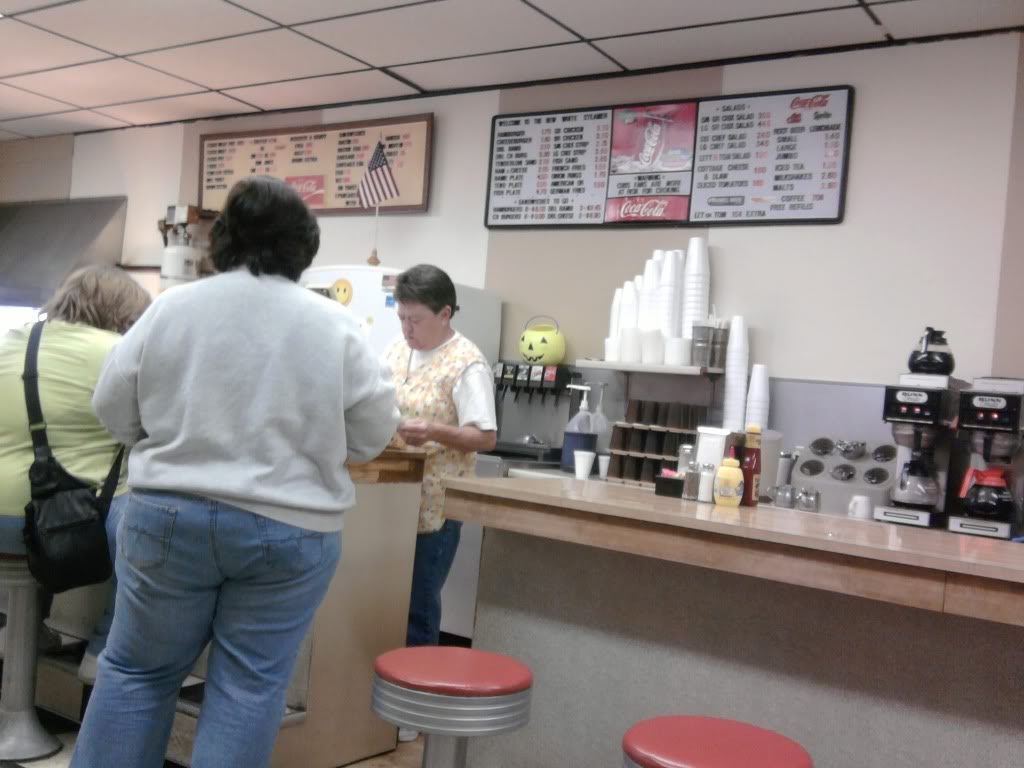 I've finally gotten the site to the point where I can add and edit posts without having to do so directly in the database. What a pain that is. And now that I have the ability, maybe I'll finally get around to writing about our trip to Nashville. But not today. Today is all about White Steamer.
White Steamer is a little diner in Washington, Indiana. I was in town to do some work for a client and headed there for lunch at the suggestion of one of the receptionists. The name immediately made me think White Castle but it's not at all that. I'm not sure where the name came from; I should have asked.
The first thing you're greeted with is the wraparound corner window that allows one to watch the cook at the grill from outside. It was raining, so I didn't do this, but I could have if I wanted. The inside was a classic greasy-spoon diner complete with counter service and small booths lining the wall. I chose a booth because I had a coat and I never know what to do with it sitting at a counter. They weren't so busy I couldn't have taken up two seats at the counter, but that seemed kind of rude.
That, and the clientele was decidely blue collar. Nothing wrong with that, mind you, but it was enough to keep me from taking more than one picture in fear I might get booted out on my arse. That's my waitress at the till; she looks curmudgeonly but she was pretty nice.
(Speaking of the picture, it makes it look like the place was spotless. Hardly. The walls were dingy yellow and everything was just old. Not complaining here, but this place has been around a while.)
Taken as a whole, the food was decent. Separately, the burger was excellent (very, very thin, but smothered with grilled onions) but the fries looked like the frozen variety I get at Save-A-Lot. I didn't try one, but I bet the milkshakes are killer.
I'm glad I went here. Sometimes it's good to do something different. I was in a town I'm moderately familiar with at best, and I could've gone the fast-food-chain route and didn't. Yay me.