The Sims 3: Meet Edward
Wednesday, January 27, 2010
How pathetic. I finally post something after a couple months, and this is the best I can come up with? Game screenshots? Yep.
Fact is, I've been keeping busy with work and family and whatnot. I could have posted plenty but I just haven't taken the time to sit down and write anything. So even though I probably have better things to do (like sleep) I decided to throw this up, if for no other reason that I'm really enjoying playing Sims 3 right now.
I created a character named Edward. I wasn't trying to make him anything in particular, but I ended up making him a lot like myself. He's a computer geek, likes to cook and play guitar, and is creative (and likes to point out others' flaws). I even gave him something vaguely resembling my hairstyle and glasses. But he's not me. Honest.
This is Edward's first house. (Okay, technically his second, but the first was a canned house until I applied the money cheat. It didn't last long.) With this one I attempted to add an attached garage using a tutorial I found online, but it didn't quite work. Still, I think it looks good overall, but the layout inside was too cramped and I didn't like it after all. The kitchen was way too small, there was no eating nook and the dining room was all the way down the hallway. Bleh. The upstairs turned out much better, though.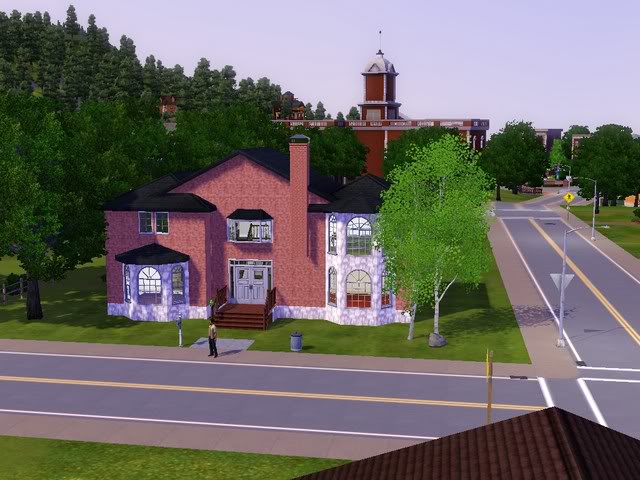 This is attempt number two. The layout has a better flow (including a library!) and there's both a breakfast nook and a dining room, and plenty of space in the kitchen. The upstairs had so much room I didn't even bother decorating half of it. Well played.
One of the fun things in this game (when you have plenty of money, that is) is hitting on the women (or men, if that's your thing) just to see who you can string along. I hit it off pretty well with Molly. Every advance I tried worked well, and it didn't take long to get engaged. I also hit it off well with Donna, but she was a little more touchy and stopped being my friend if I didn't talk to her, like, every day. Bitch.
Engaged and aging, I knew I was running out of time to tie the knot before I became an elder. I hit the town. I went to the bistro, where Molly works, and did score points for chatting with her, but because she was working, it was short. I decided to make more friends.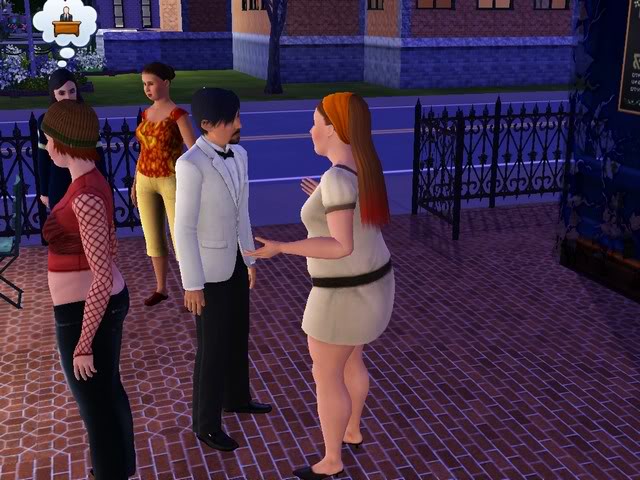 Not one to leave well enough alone, I started hitting on the fat chicks. Also not one to toot my own horn, I must admit they found me alluring. No seriously, that's what the game tells me. Maybe they're just deparate for attention or something, but it didn't really take long for these two to have the Sims equivalent of a crush on me. Sorry, ladies, this stud is taken. Edward can be a bastard that way.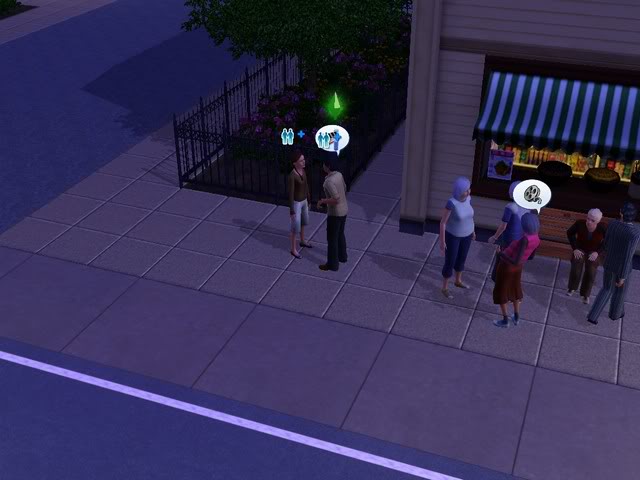 Still not one to leave well enough alone, I started hitting on this cute little number. Except, to my horror and amusement, she's in high school. Oops. Now Edward is a pervert. Oh, and did I mention that's Molly's sister? Oops again. (The game doesn't actually allow you to flirt with the kids, but that didn't stop me — um, I mean Edward — from trying.)
So with one day left before turning old, I managed to get Molly to come over after work. After a few "woohoos" (if you play the game, you know what I mean) we tied the knot. How sweet. And Molly was kind enough to bring $2000 to the household. It's not much, but at least I have the money cheat an inheritance. Oh. And she brought her kid sister. Awkward.
The funniest part, however, is apparently Molly is a bit older than Edward. Minutes after moving in, she had her "birthday" and turned into a gray-haired old bitty. Suddenly that sister's looking better. I quit the game before Edward's "birthday," but it's just as well. Right before I did, Molly went to bed and Sandi was moving to join her because I hadn't decorated a new bedroom for her yet. Maybe it was going to get kinky, but I doubt it. It actually kind of pissed me off that my bed was taken. Bitch.
I haven't played now in a couple days, but I have downloaded about 500+ new objects, so I'm looking forward to getting back at it. Looks like a new house is calling.